Success Story of Cyber Security Entrepreneur: Mr. Seemant Sehgal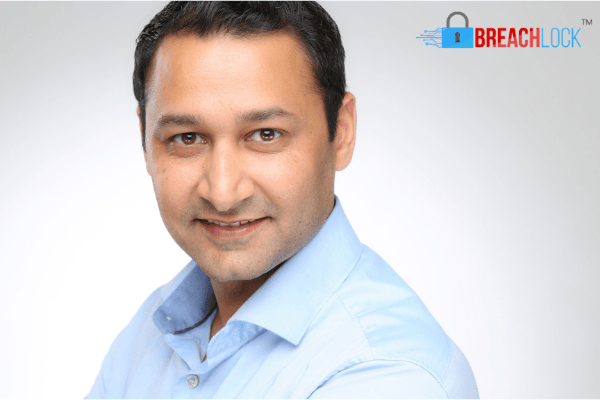 Seemant Sehgal, Founder and CEO of BreachLock Inc. is a promising Cyber Security Entrepreneur in the EU and USA tech scene. His venture BreachLock has been listed amongst Top 10 Vulnerability Management Solution providers for 2019 and is listed in Top 10 Vulnerability Asssessment Solutions by Gartner Peersinsights. He is an ardent supporter of RED Teaming philosophy. Seemant is a regular speaker at international conferences and also an author for the ISACA Journal since 2015. In January 2015, Seemant's paper on "Effective Cyber Threat Management – Evolution And Beyond" was published in the ISACA Journal.
His areas of expertise include cyber resilience, payment security ( PSD2, PCI DSS), ISO 27001, Cyber defense and SOC. He is a proud contributor/supporter for Threat Intelligence Based Ethical Red teaming (TIBER) initiative.He has been recently engaged with organizations such as ING Group, Capital One Bank, IBM, COMODO Security Solutions (UK) and Cisco Systems offering them his expertise in various domains of Information Security. He has also achieved various certifications including SANS GSNA, CISM, CISA, CEH, ISO 27001 Lead Implementer.
Let's have a look on the below conversation, Hackers Interview team had with Mr. Seemant Sehgal :
When and how did you start?
My first job was in a cyber security startup in 2003. Although I have always been playing with a few startup ideas for quite some time, I could never call it a day with a promising corporate career ahead of me. In 2018 I finally decided to take the bull by its horns and took the entrepreneurial plunge with my venture BreachLock. In terms of "how" it was not so difficult. Once you have made up your mind, and you can think clearly about your plan, the only thing you need to do is to execute it. I know it sounds too simple, but there is no other way to approach your entrepreneurial ambitions.
How did you come up with the idea to enter the Cyber world ?
I am fortunate to be in cyber security by choice and not by chance. It's a rather funny story in terms of how I made that choice. I don't know what your readers would make of this, but I was not good with academics. I knew I was smart, just was not interested. I was born in a small town in India, and living in the metro looked like the best dream while I was growing up. So it would not be unfair to say that as a small-town boy with humble beginnings, the plan was to chase the next best opportunity. That approach got me into one of the top business schools (Symbiosis), where I did my post-graduation in computers management. Until this point in time, I was still not interested in what I was studying. While attending one of the networking classes back in 2001, my tutor got annoyed with me as I was not able to answer his questions. It was not a pleasant experience to get singled out amongst a class, and it showed on my face. To make up for this, the tutor asked me to stay back and showed me a quick hack on my college websites to retrieve some DNS records to cheer me up. That was the turning point. I was fascinated with the idea of hacking, and since then, there has been no looking back. I got my self an internet connection and practiced hacking my friend's computers. This was back in 2002 when there were no hacking certifications available, so one had to work hard to get the right information on vulnerabilities and exploits. It was perfect fun and the beginning of an exciting journey.
Brief about organization and founding members
So BrechLock was founded with a clear goal to make security testing smarter and scalable. Having spent almost 17 years in this industry, I had observed two facts all through. The first being hacking was a constant factor in terms of why the cyber security industry exists. Secondly, I noticed that the industry was focusing too much on detection and response while the majority of big hacks point to fundamental hygiene issues. The writing was clear on the wall. If we had found and fixed those flaws ahead of the hackers; we would put up a better fight against cyber criminals. The other thing that struck me was how the industry is dealing with security testing. In times when the cyber criminals can launch a DDOS or hire a malware ready BOT with a few clicks, we are consuming security testing in the same way we did in the pre-cloud era. This lead to the idea of BreachLock a SaaS-based cloud platform where our clients can order and consume both automated and manual security testing with a click.
BreachLock is bootstrapped by me as a single founder. Fortunately, a lot of like-minded professionals that I have worked with in the past have stepped forward to contribute to this mission. Some of them have also worked with me in the recent past, while others are new to the team. From just me, we moved rather quickly to a total team size of 18 across the US, The Netherlands, and India. We are incredibly picky about who joins and stays on our team, and we are still looking for worthy colleagues in all three locations. We are also fortunate to have experienced mentors and advisory board members which comprise of former CISO's and other successful founders of tech startups.
Here is an Explainer video which will help you to understand more about BreachLock
What challenges did your organization face, as the time went on ?
I think the biggest challenge for any organization is to put a great team together. A good team is half the battle won. It's not very different for BreachLock. We had a hard time finding the right mix of talent and attitude that could bring BreachLock where it is today. However, our constant pursuit and non-compromising attitude towards hiring ensured that the right talent was attracted and only the best amongst them stayed with us. The second challenge was how to attract the right audience. We are focusing on North America, and 99% of our clients come from there. Getting in front of the right decision-maker at the right time is a constant challenge considering the lack of time and attention they have. Another problem that I did not see coming was the legal and compliance process I had to go through as a first-time founder. It takes immense time and effort to learn about the laws or accounting practices for multiple countries where you operate.
Describe how your journey was, from being a nobody to a successful entrepreneur.
It would be more appropriate to say "a successful startup" as we have generated enough value in the market to get noticed and win the appreciation of hundreds of clients in such a short time. The overall journey for me has been much longer as this was a long due goal that I aspired to fulfill. Thanks to the moral values and blessings I inherited from my parents, the journey was challenging but rewarding as well. Support from my family in The Netherlands also made things more comfortable than they would have been otherwise. In terms of success as an individual, I believe in constant intellectual and philosophical growth. That process is still on and will be for a long time to come. I am committed to be a better version of myself every day and help as many people as I can. From that standpoint, I don't think I can claim victory "yet."
About funding, plans on growth
Surprisingly we have been approached by many large institutional investors from the US and UK already. Some of these were associated with big success stories in the tech startup scene. These are very encouraging signs. However, we have humbly declined those offers for the time being and deferred our decision to seek funding to 2020. We are confident of a much better valuation at that time.
What could be next step towards global domination of your venture?
Considering we are targeting only the US and EU markets, you can argue if we would ever be truly global in the near term. As a young team, our focus is on innovation and execution; success will find its path and destination.
A quote from the founder on the journey or dealing with the challenge or any inspiring moment.
Great achievements take time and need a relentless pursuit of your goals. If you are honest to yourself, you will achieve them maybe not immediately but definitely.
Founder's advice to budding entrepreneurs
Given the easy access to technology, it has become much easier to start a business these days. One should take advantage of that. However, running a business is about cash flow. Often tech entrepreneurs focus too much on their product and less on the business model. My advice would be to keep the later at the center of your strategy and build the rest around it.
Finally, what keeps you going? What helps you keep going strong throughout the day?
I am lucky to find something that I like doing and also get paid enough to empower my family and people around me. I love what I do and what it does for people around me. That keeps me going. Also, I think its a privilege to be in my spot, and I feel obliged to do justice to this opportunity.
Your/Organization website and contact details if you want to share with our readers.
Website:  www.breachlock.com
Address:
BreachLock Inc.
276 5th Avenue
Suite 704 – 3031
New York NY 10001
BreachLock Netherlands B.V
Burgerweeshuispad 101
Amsterdam-1076 EW
The Netherlands
"Thanks Mr. S Sehgal for giving your precious time to our readers."
Information Security Professional | Cyber Security Expert | Ethical Hacker | Founder – Hackers Interview