Exclusive Interview With Digital Forensics Expert From India: Santosh Khadsare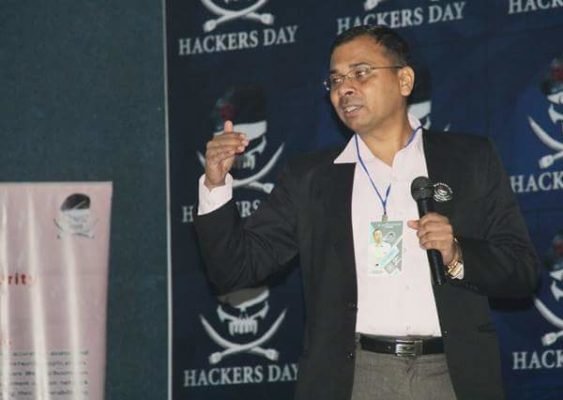 Forensics have been a most interesting terminology in the era of science. Once it comes to digital world, the term digital forensics become more interesting and useful area of forensics science. Digital forensics play a crucial role in cyber crime investigation as well as in other cases since digital devices are the most useful evidences to solve any cyber crime.
So to discuss some key facts about digital forensics and career opportunities in digital forensics we have a well know digital forensics experts from India with us.
Yeah, today we have Mr. Santosh Khadsare with us to discuss some important and worth reading factors of digital forensics.  He has rich experience of working in digital forensics with a huge amount of knowledge and experience. So let's have a look on the discussion, Hackers Interview had with Mr. Santosh Khadsare.
Team Hackers Interview: Hello Mr. Santosh, please introduce yourself to our readers.
Santosh Khadsare: My name is Santosh Khadsare and I am an Information security professional who specializes in Digital Forensics. I have done my B.E (Electronics and Telecommunications)  and posses additional qualifications such as CHFI, CEH, RHCSA, Advance Cyber Forensic Course(CDAC), Cyber Crime Investigator, Access Data Certified Professional. I have 17 years plus of rich experience in field of Information Security, Digital Forensics, Cyber Audit, Cyber Laws and  Incident Response, Been a speaker in various international conferences such as C0C0N 2016, HAKON 2016 National Cyber Defense Summit 2016 , GovInfoSec Summit Asia 2016 and Hackers Day 2017.Have also authored various articles on information security and Digital Forensics in national and international publications.
Team HI: Why you've decided to pursue Cyber Forensics as your career option?
Santosh Khadsare: Cyber Forensics is a niche field in the Information Security domain. We have very few experts working in this field whereas the demand is tremendous. Every crime needs digital forensic investigation as at least one digital asset (eg. mobile phone or computer) is directly associated with it. But on the contrary the awareness is very less and a career prospect among the community and especially students is not known. These are few reasons why I decided to pursue Cyber Forensics as a career option.
Team HI: How you had started your journey in cyber world?
Santosh Khadsare: I did my B.E (Electronics and Telecommunications) from Pune university in 1999 (last century). I was interested in Information Technology and while working I realized that security is the last on priority in this field. Cyber crime had started and IT was being misused by the criminals, so I thought I should pursue a field which will assist the Law enforcement agencies in solving such cases.
Team HI: Tell us about your experience in this field.
Santosh Khadsare: Cyber Forensics is yet to be taken as a career option in India but it will change very fast as lot of students are showing interest and even pursuing higher studies in this field. The government and Law Enforcement Agencies are also gearing up for the Cyber Forensics revolution by capacity building and training people in this field.
Team HI: What is your major contribution in this field?
Santosh Khadsare: I think my contribution (I will not call it major) is getting people from various facets of life to include industry, academia, LEA and especially students on a common platform and making them understand the importance of Cyber Forensics. I have been able to motivate students to take this as a career option and assist the LEAs .
Team HI: What advice will you give to our readers to stay safe online?
Santosh Khadsare: As you are aware of the benefits on internet, you should also be aware of the dangers. Awareness is the key to everything including staying safe online. One more thing "Internet never deletes and never forgets"….so think before you click
Team HI: What do you think what are the myths general public may have about Ethical Hacking and Cyber Forensics?
Santosh Khadsare: I would only say everything has ethics even Cyber domain so practice cyber ethics while you are online. Secondly, whatever you do in digital world can be recreated and proved by Cyber Forensics.
Team HI: According to you, what skills a person should possess before choosing a career in Cyber Forensics?
Santosh Khadsare:  Aptitude and patience are the important ingredients one should posses. Your neutrality is also very important as an investigator only puts forward the statement of facts and cannot give a verdict on a case.
Team HI: What certifications will you suggest to newbies which may help them in growth and enhancing their knowledge in Cyber Forensics?
Santosh Khadsare: Many organizations provide various certifications on Cyber Forensics. One good option is doing M.Tech in Cyber Forensics from universities such as Gujarat Forensics Sciences University, Gandhinagar. CDAC too offers courses on Cyber Forensics and so do other private players. CHFI is also a good certification to pursue.
Team HI: Do you think Indian Government should implement some new rules or laws to prevent cyber crimes? If Yes, then kindly mention what it should be?
Santosh Khadsare:  Government can makes rules but it's we, the citizens that need to implement them. Self restraint in the cyber domain has to come from within. Regulation of internet is not possible hence more stress should be laid on cyber awareness which the government is already doing. No cyber crime should go unpunished, specially against children, women and the nation.
Team HI: Please make our readers aware about Digital 4N6 Journal.
Santosh Khadsare: Digital 4n6 Journal is India's first Cyber Forensics Journal started to assist Digital India initiative. It has multiple objectives such as spreading awareness, training, skill development, research and giving a platform to all interested to express their views. You can visit www.digital4n6journal.com for additional information.
"Thanks Mr. Santosh for giving your precious time to our readers"
Information Security Professional | Cyber Security Expert | Ethical Hacker | Founder – Hackers Interview