Exclusive Interview With Ethical Hacker From India: Rizwan Shaikh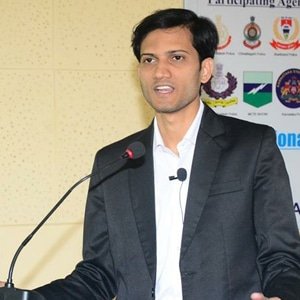 In today's interview, we have another speaker of HackersDay International Information Security Conference 2017, who will be sharing his experiences on various factors of Information Security and Cyber Law.
He has a rich experience of working with InfoSec professionals, MNCs, Law enforcement agencies and many more.  He has expertise in various areas of Information Security such as Vulnerability Assessment, Information Security Audits, Penetration Testing, Source Code Reviews, Computer Forensics, Ethical Hacking and Cyber Law
So here is a quick and valuable discussion with Mr. Rizwan by Hackers Interview team.
Team Hackers Interview:  Hello Mr. Shaikh, Could you please introduce yourself to our readers.
Rizwan Shaikh: Greeting to all the readers, my name is Rizwan Shaikh and I am an Information Security Researcher and Cyber Crime Consultant with more than 8 years of experience in the meadow of Ethical Hacking, Information Security and Cyber Law. I have been conducting Ethical Hacking training and providing Information Security services across the globe training more than 30000 individuals in Colleges, Corporates and Government Departments. Also I have been invited by many corporates and leading institutes of India for conducting workshops, seminars, boot-camps and training on Ethical Hacking and Information Security.
My area of expertise includes Vulnerability Assessment, Information Security Audits, Penetration Testing, Source Code Reviews, Computer Forensics, Ethical Hacking and Cyber Law
I have revealed huge number of critical vulnerabilities, bugs, loop holes, and more on websites and networks of major corporates and institutions. I have also resolved many Cyber Crime cases and also being a security advisor for various reputed organizations, banks and e-commerce firms, helping them design safe cyber architecture for their web servers and networks.
At Present, I am the Founder of Pristine InfoSolutions (www.pristineinfosolutions.com), a Cyber Security company headquartered in Mumbai with 8 branch offices across India, specializing in providing training and services for Cyber Crime Investigations, Cyber Law Consulting, Ethical Hacking and Information Security. My profile is also available on my personal website www.rizwanonline.com
Team HI: What made you to pursue Ethical hacking as your career option?
Rizwan Shaikh: After completion of my 10th grade from Maharashtra Board, at the age of 16, I got my hands on experience by completing computer studies with various certification courses like CCNA, MCSE, RHCE, IBM Lotus Notes & Domino. Surfing Online & Exploring the Internet World and beyond, caught my interest. Cracking & Hacking became one of my favorite interests of all, that's where it all begun.
Team HI: Could you please share with us about how you started your journey in Cyber World?
Rizwan Shaikh: Prior to my college journey, being an active kid on several social media websites like Orkut and many more through which I also managed on becoming an active member of multiple hacking communities and groups. Initially being unaware of the Cyber Laws, I defaced multiple websites belonging to other nations which was a routine activity in the groups. It was like a fun activity for me that pulled my Interest in Cyber and hacking world.
Team HI: Kindly share your experience in this field.
Rizwan Shaikh: With an expertise of more than 8 years, I have been conducting Ethical Hacking Training Programs & providing Information Security services across the globe. Being an active Speaker on Cyber Security and Cyber Law I receive invitation from many corporates and leading institutions of India including IIT's and NIT's for conducting workshops, seminars, boot-camps and trainings on Ethical Hacking and Information Security. Also having trained more than 30000 individuals in Colleges, Corporates and Government Departments, I have also managed to train employees of some of the most prestigious clients like Accenture, Wipro, Capgemini, Trend Micro, TCS, HCL and many others.
 
Team HI: Could you please describe some amazing things you did as an Ethical hacker?
Rizwan Shaikh: As an ethical hacker, my major accomplishments include identifying the websites which were involved in Fraudulent Activities like 419 Scam, Spamming and many more. I have recently initiated and set up a feedback loop with different Anti-malware organizations to proactively share & report details about the abusive Domain names and different Malwares. All this efforts are lauded by members of various underground hacking groups, security researchers and communities worldwide.
Team HI: What advice will you give to our readers to stay safe online?
Rizwan Shaikh: For basic non-tech / common people, I would recommend little precaution methods to stay safe online:
1) I would recommend to keep a strong password & to change it every month. A strong password comprises of an alphanumeric password with minimum of 14 characters in length
2) Users need to make sure to hide and keep their personal data and confidential files by some hiding techniques which are readily available in OS itself or some third-party apps.
3) Never to click on or install any unknown or known software sent by unknown people from any unknown link. It may contain a malware which will compromise the system (computer and cell phone).
4) Users need to be aware to check the website links properly including https (SSL) / Transport Layer Security (TLS) certificates before they enter any credentials to avoid any password theft by phishing tricks.
5) Using of Antivirus software and firewalls & keeping it updated helps in preventing unwanted malicious attacks.
Team HI: What is the scope of ethical hacking today?
Rizwan Shaikh: Ethical hacking today has a very wide scope globally. Since we see that India is marching towards a digital era, it has also seen a rise in cybercrime world and hence the requirement for security is also going to spurt. The scope of Ethical Hackers in India sooner or later will be high on demand. Not just in government sector but also private company also has a huge demand for hiring Cyber Security experts.
Team HI: What will you suggest to our newbies who are interested to start their career in Ethical Hacking?
Rizwan Shaikh: Little advice for newbies that would help them for a successful career in Ethical Hacking would be:
1) To have strong basics as no one can become an expert without having basic knowledge.
2) Begin As Soon as Possible. I see many lads' wishes to purse Hacking courses after the completion of their graduation. This is a big loss of time as we see majority of good hackers are teenagers. Starting these courses at an early age ensures proper knowledge and hand on experience in this field which reaps major success ahead.
3) Many Ethical Hacking Training Institutes are available which provides ethical hacking courses. At the same time, students must take care of never routing into marketing gimmicks and tactics of any marketing genius. We live in a world where education is being sold. Students should surely join institutes but make sure to learn themselves as well.
4) Always keep in mind that self-learning is the best quality for success (of course with guidance) & Google can be your best teacher.
5) In order to achieve the tag of being "Expert in Information Security", there are few important pillars which one should be excellent in, like: Network security, Web Security, Email Security & Cyber Law.  Apart from this, newbies must start learning few programming languages as well.
6) The mantra to a successful Ethical Hacker is to think like unethical hacker but to act with ethics.
Team HI: What are the various career opportunities in Ethical hacking?
Rizwan Shaikh: Hackers could be hired in various profiles like Cyber Security Analyst, Information security consultants, Security Engineer, SOC Analyst, Network Security Analyst, Penetration Tester, Risk Assessment officer, DDoS mitigators, VAPT expert, and with many other names and profile. Even Cyber Law consulting and Social Media branding profile hires many hackers to get the best of the digital world.
"Thanks Rizwan for for giving your precious time to our readers."
Information Security Professional | Cyber Security Expert | Ethical Hacker | Founder – Hackers Interview