OSCP Blog Series – OSCP-like Machines in HTB, VulnHub, TryHackMe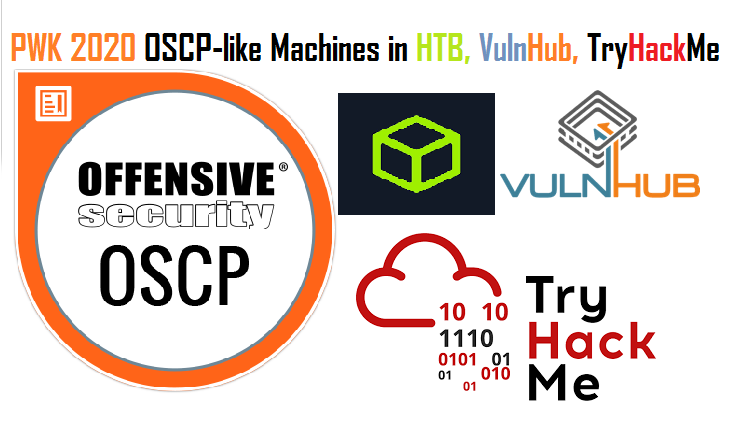 This post is about the list of machines similar to OSCP boxes in PWK 2020 Lab and available on different platforms like Hack The Box (HTB), VulnHub and TryHackMe. The machines may not have exactly same attack vectors but have a similar kind of techniques which may help you to prepare for OSCP before purchasing OSCP Lab.
This list is prepared based on my experience in PWK 2020 Lab and may not match 100% of the machines. I have not completed all the machines in Lab so few machines may not be included in this list however it should be enough to practice and improve the skills before you go for OSCP Lab.
I have not practiced all these machines from the list but have completed 80% of them and read walk-through of other 20% machines. Based on my experience I found these machines similar so OSCP aspirants can make use of these freely available machines to practice and prepare for OSCP.
Hack The Box (HTB)
Blue (Windows)
Bounty (Windows)
Canape (Linux)
CronOS (Linux)
Devel (Windows)
FriendZone (Linux)
Frolic (Linux)
Haircut (Linux)
Help (Linux)
Jarvis (Linux)
Jerry (Windows)
Joker (Linux)
Lame (Linux)
Nibbles (Linux)
Nineveh (Linux)
Netmon (Windows)
October (Linux)
OpenAdmin (Linux)
Optimum (Windows)
Poison (Linux)
RedCross (Linux)
Sunday (Linux)
VulnHub
Bob
Brainpan
GoldenEye
NullByte
Pluck
Sedna
TryHackMe
Alfred
Blue
Brainstorm
Corp
HackPark
Ignite
Kenobi
Skynet
Steel Mountain
Thompson
Note: Few of the machines are also referred from NetSecFocus Trophy Room. Another useful resource to watch walkthrough of many of these machines – IppSec's Youtube channel
Information Security Professional | Cyber Security Expert | Ethical Hacker | Founder – Hackers Interview