Pre Event Release: Monex Summit MENA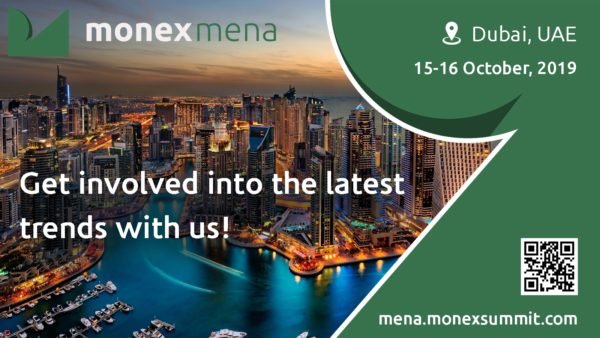 Monex is an annual event that brings the leading experts in FinTech movement, high-level financial market representatives and international banks in 2 insightful and engaging days with about 15 hours of networking followed by presentations, panel discussions and B2B meetings organized by professional team.
On the 15-16th October 2019, leaders representing every sector of the FinTech industry will come to Dubai to seize new business opportunities, strengthen partnerships and discover the latest disruptions. Participating in Monex MENA will involve you into cutting edge topics with a various networking opportunities. Explore industry-specific challenges and solutions during hands-on presentations from the world's leading experts.
Monex Summit MENA  will be held in cooperation with MENA Fintech Association, Event will also be provided with additional support from various international and local associations. Do not miss  a chance of early bird prices!
Looking forward to meet you all in Dubai, UAE on 15-16th of October!
Registration Link : https://mena.monexsummit.com/register
Author:
Prachi K
Technical Writer, Branding Executive – Hackers Interview. Prachi has professional experience in the area of Branding and Article writing.